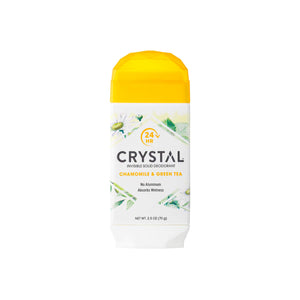 CRYSTAL™ Chamomile & Green Tea Invisible Solid Deodorant eliminates odor while absorbing excess moisture with a touch of baking soda. The unique domed shape glides on silky smooth, conditioning the skin with nurturing ingredients like Mimosa Leaf and Sweet Violet Extract. Odor-neutralizing essential oils, including Lotus Blossom and Orange Peel Extract, delivers long-lasting 24-hour protection.

- Prevents odor safely for up to 24 hours.
- No residue, no staining, no white marks.
- No flaking, non-sticky, non-oily
- No Aluminum Chloride/Chlorohydrate/Zirconium,
- No Parabens, Phthalates, or Artificial Fragrance.
- Dermatologist tested
- Vegan and Cruelty-Free.