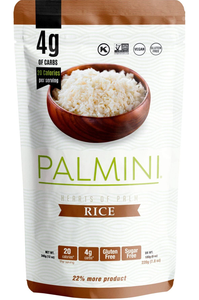 - 4g of Carbs, 20 Calories, No sugar, and Gluten Free!
- Palmini is a pasta and rice substitute made 100% out of a natural plant known as Hearts of Palm.
- BPA Free, Kosher, and Non-GMO verified
- It's also vegan, vegetarian, keto, paleo, kid friendly and FULL of nutrients!
- When this plant is cut and cooked in the proper way, its resemblance to regular rice is remarkable.
- Palmini Rice is perfect for everyone. Just add your favorite sauce or seasonings and ENJOY!