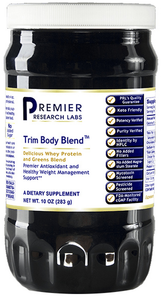 Premier Antioxidant and Healthy Weight Management Support
The Trim Body Blend™ formula delivers a new genre of Performance Protein Drinks that offers a full spectrum of world-class botanical ingredients including alkalinizing greens – all combined together with premier quality whey protein into one delicious, creamy blend. This formula is designed to deliver healthy weight maintenance and antioxidant support. 
Finally, a great vegetarian protein drink for the whole family that contains 100% ultra-quality nutrients with NO compromises!