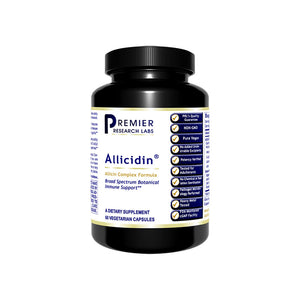 EXQUISITE IMMUNE SUPPORT
90 plant-sourced capsules/bottle

Allicidin® provides concentrated amounts of allicin from garlic extract to help promote healthy immune support. At last, a full spectrum, botanical formula made from premier quality garlic extract with notable amounts of allicin to assist you and your family with exquisitely thorough immune and cardiovascular support - just when you need it.
This formula elegantly supports both immune and cardiovascular health. It is known for its Allicin OrganoSulfur Complex™ which yields the unique nutrient, allicin, a legendary organosulfur immune compound found in garlic – in a concentrated form. Allicin is activated in garlic when the fresh bulb is pressed, causing it to release the catalyzing enzyme, alliinase, which quickly converts alliin to the immune-active compound, allicin.

This formula also delivers European wild garlic, called Bear Garlic, the original non-hybrid garlic (not kitchen garlic) used for thousands of years. The third complex, Botani-Pro Blend™, contains a full spectrum of botanical agents and their naturally occurring phytonutrients to create an optimal nutritional effect.