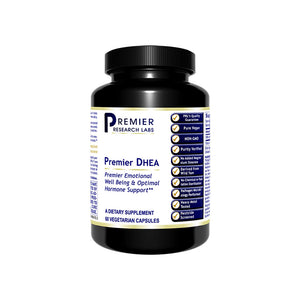 Premier Aging, Mood Balance, and Hormone Support
60 plant-sourced capsules/bottle

DHEA is a hormone naturally secreted by the adrenal glands and is the most abundant adrenal steroid hormone in the body. DHEA travels throughout the body where it is converted into androgens, estrogens, and other hormones. Plasma levels of DHEA gradually decline with age. Studies suggest that DHEA provides beneficial support for healthy aging, a sense of well being (mood) and hormone levels.