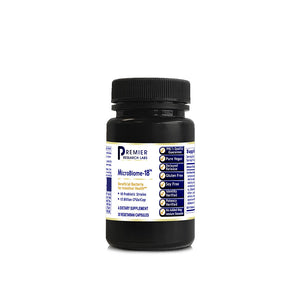 18 Probiotic Strains, 15 Billion CFUs/Cap Supports Digestive Health
30 plant-sourced capsules/bottle
MicroBiome-18™ is a new genre of full-spectrum probiotic formulas that offers 18 different strains of beneficial bacteria with a guaranteed 15 billion CFUs per capsule.
This advanced probiotic support formula is based on the extensive science of the patented bacteria, DE111R Bacillus subtilis,* that has demonstrated unmatched probiotic support for the body's intestinal microbiome. By crowding out undesirable bacteria, the gut maintains a healthy flora while also supporting the normal immune reaction of intestinal cells.