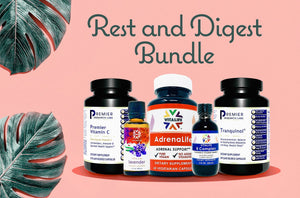 REDUCE STRESS!
The Rest and Digest Bundle makes it super simple to give your body the support it needs due to chronic stress. If you've been looking for stress-relief then look no further!
When parasympathetic activity occurs (rest and digest), healing and regeneration begin to take place. The body performs activities like digesting, detoxifying, eliminating, and building immunity. Sounds pretty amazing, doesn't it!
The Rest and Digest Bundle includes one bottle of each supplement:
Vitamin C
AdrenaLife
Tranquinol
B Complex
Lavender essential oil
FREE shipping is included with this bundle! Order one for yourself or for a loved one. Max of three bundles per order.